Thanks to the generosity of our sponsor ATLAS.ti, the Exploration and Insights series archives can be accessed for free.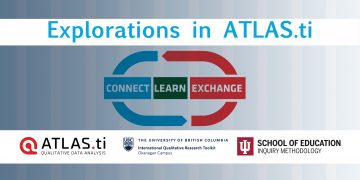 Theme generation using Smart codes and smart groups
Presenter: Dr Ajay Gupta
March 15, 2022
Collaborative qualitative analysis and interpretation
Presenter: Dr Gerben Moerman
February 3, 2022
Strategies for Data Analysis Using Networks to Obtain Meaningful Results
Presenters: Julia Gluesing and Ken Riopelle
October 12, 2021
Reference Material | Slides | Video
Collaborative Qualitative Data Analysis using ATLAS.ti Web: Case of Cyberbullying
Presenters: Ani Munirah Mohamad & Yusramizza Md Isa
September 28, 2021
Role and Impact of CAQDAS Software for Designs in Qualitative Research
Presenter: Dr. Susanne Friese
March 29, 2021
Visualizations in ATLAS.ti: Using Semantic Relationships in the Ethnographic Study of a Community Health Worker Program
Presenter: Ricardo Contreras, PhD
February 22nd, 2021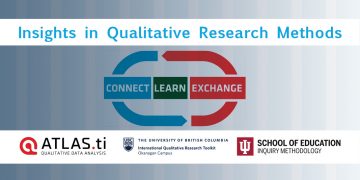 Navigating Misperceptions about Mixed Method Research in a Contemporary Context
Presenter: Dr. Elizabeth G. Creamer
February 22, 2022
Immersion in Social Media Research: The Netnographic Path
Presenter: Robert V. Kozinets
30 November 2021
Conducting Qualitative Research in an International Context
Presenters: Drs. Solina Richter and Kimberly Jarvis
17 November 2021
Making images, visualizing worlds
Presenters: Vivek Vellanki, PhD and Tran Nguyen Templeton, EdD.
10 November 2021
References and Resources | Video
Dramatizing the Data for Dialogic Dissemination
Presenter: Dr. Joe Norris
26 October 2021
Video-reflexive ethnography: Rationale, principles and practice
Presenter: Dr. Rick Iedema
May 27, 2021
The Impossibility of Equivalence: Critical Theory and Translation in Qualitative Research
Presenter: Dr. Pengfei Zhao
April 22, 2021
Designing and Conducting Qualitative Research in Digital Spaces
Presenters: Dr. Trena Paulus and Dr. Jessica Lester
March 11, 2021
UBCO series – under development
Accessing the UBCO series archive requires registration below.
Register to access the UBCO series